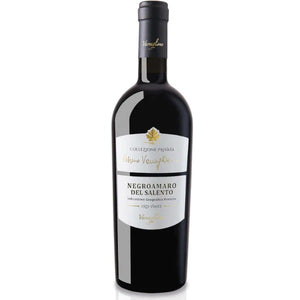 Cosimo Varvaglione Collezione Privata Negroamaro del Salento
Facts about the wine
Winery : Varvaglione
Grapes : Negroamaro
Region : Italy / Southern Italy / Puglia / Salento
Wine style : Southern Italy Red
Alcohol content : 15%
Allergens : Contains sulfites
Description of the wine
Balanced but bold, Medium-full bodied but smooth.
Everything you want in negroamaro, dark fruits, background of darker tones with a round taste, power of alcohol to boost them and good, warm finish.
I would call it "Spicy Blue". Unique Blue notes all the way: blackberry + blueberry with very spicy pepper, clove, rosemary, tobacco.
#Italy #Salento #Varvaglione #Redwine #Negroamaro